Sometimes, you drift around for a while before you find your mooring. André Roswell knows a thing or two about that. After years as an office worker in the Sherbrooke area, he finally decided to swap his desk for a deck — the deck of a fishing boat, that is. He returned to the sea idyll of his childhood in his native Harrington Harbour, on the Lower North Shore.
BY GENEVIÈVE VÉZINA-MONTPLAISIR
This article is sponsored by the Créneau d'excellence Ressources, sciences et technologies marines
André recalls his first fishing story with a smile in his voice. In kindergarten, he'd drawn in his binder a small fishing vessel departing a wharf, with a sobbing child left behind on dry land. "That morning, my father hadn't woken me at 2 a.m., like he usually did, so I could go cod fishing with him. I was sad!"
This long-ago memory shows just how attached to fishing André, now 42, has been since his earliest days. But even decades ago, in a coastal village whose beating heart was commercial fishing, locals wondered about the sustainability of their livelihood.
"We were encouraged to study on the mainland, and that's what I did, in Sherbrooke, in management. But each summer, as soon as classes were over, I went back to Harrington and fished with my father all summer long. I loved it!" he says, in the charming accent of the coaster, as Lower North Shore inhabitants are nicknamed.
« When you're at sea, you're in another world. All your stress melts away: you're living in the moment »
– André Roswell
From solid ground to open sea
For six years, André journeyed the 1500 kilometres to return home every summer, yearning for the extraordinary sense of freedom that fishing accorded him. Then he embarked on a career on solid ground in Sherbrooke. He supervised a call centre, managed the accounts receivable for a furniture company, sold insurance and financial services. That's when he met his future wife, with whom he'd eventually have a daughter. She was also from the North Shore, and they decided to move back to be closer to family. André seized a transfer opportunity at his firm and became head of sales for the Sept-Îles office. Each summer, he would return to Harrington Harbour to help out on his father's fishing boat.
"When my father started mentioning retirement, my wife suggested I broach the topic with him – she knew I was a fisherman at heart. Just as I began talking about taking over, I was laid off," he says. "So I started crabbing with my dad in 2017. He's now 65, and he's still not retired! Last year, I got my first lobster permit. When I took my first lobster out of its cage, I really felt I was in the right place!"
Now officially a fisherman and proud of it, André leaves Sept-Îles every April to live out his passion in Harrington Harbour all summer long, fishing for crab, lobster, cod, and halibut. In August, he returns to town and to his small family.
André is also engaged in a scientific research project on whelk fishing. With support from the Quebec Fisheries Fund – which finances innovative projects in sustainable fishing, among other ventures – he's testing new cages he developed with his father. Fisherpeople are often the best placed to develop better practices for the industry.
"What I love about fishing is being outside – the fresh air, the smells, the saltwater. When you're at sea, you're in another world. All your stress melts away: you're living in the moment," he claims, his eyes shining behind his glasses.
A new passion
From September to March, when he's not out at sea, André shares his love of fishing and knowledge of industry best practices with students from the École des pêches et de l'aquaculture du Québec. For the past three years, he's been teaching students about rules and regulations of navigation, the use of marine charts, and fishing vessel stability.
"I love it; it keeps me active and familiar with the latest developments in the industry. It's interesting to be able to share my passion for my trade, as well as transmit my experience and everything I know about fishing to the next generation."
If you want to succeed as a fisherman, André asserts, you need a strong personality, and he's not lacking in that department. But nowadays, in addition, he says you need all the software, and you must have solid management skills to prosper.
"That's why vocational training is important. As a fisherman, you're also an entrepreneur," André says. His accounting studies have come in handy when it's time to balance the books.
As for his own succession, it's not yet established. Like her father, André's 12-year-old daughter loves water, but… she prefers synchronized swimming to fishing!
le Goût de la Côte-Nord magazine
June 2022 – Number 2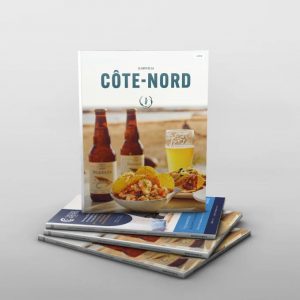 To learn more about the Côte-Nord terroir, get le Goût de la Côte-Nord magazine!