On holidays with family and friends, during visits with the Innu, for her writing projects and for Radio-Canada, Hélène Raymond roams the North Shore. She continues to visit the region and appreciates the privilege of meeting the men and women shaping this unique land.
On the North Shore, there are landscapes that move me deeply. There are images and aromas that tug at my heartstrings: arriving in Lower Shore villages; a Minganie kayaking trip; a kitchen garden defying the Anticosti deer's infamous appetites; feasts of fish on camping expeditions; the smell of firs under incomparably starry skies.
I love this country, its immensity, and its road that winds like a ribbon across 850 kilometres, from Tadoussac to Kegaska. I like skimming the shore, passing through quiet villages, sensing the fish and seafood processing plants come alive, crossing the threshold of small grocery stores, pausing on the docks, strolling on shores and beaches.
Nitassinan, or Innu land, carried the footsteps of this patient people from the seashore to the kingdom of the caribou. Then, little by little, the North Shore saw its nonnative population grow throughout the years. Settlers came to fish (commercially, then recreationally), to extract natural resources, to build hydroelectric dams. Their presence shaped local culinary history. To survive, inhabitants had to stockpile wild foods. They tended gardens, too. I admire this embodied knowledge, these leftover gestures from another era when everyone, from the general merchant to the homemaker, stored goods for the winter months.
Today, as grocery store shelves are stocked weekly with commodities from near and far, civic engagement mandates "eating locally" through a return to practices of yesteryear. Locals harvest game, salt- and freshwater fish, mushrooms, shellfish. Small farmers embrace the fleeting summer. Waste is a luxury that cannot be afforded. The turnip leaves long used to garnish meat stews stand as proof: they've become a local specialty.
What other region can boast such a rich diversity of fruits? Take all these shrubs and wild plants. The deceptively simple word "berry" covers a rich assortment: wonderful lingonberries or mountain cranberries, dark blue crowberries, sunny cloudberries. There are also raspberries, wild strawberries and blueberries… The North Shore erupts in colourful vitamins.
Though the bounty of the sea was trucked away for many years for the enjoyment of foreign feasters, things are changing. Slowly. Last summer, I saw labels indicating North Shore catches. Fish counters are getting a fresh coat of paint. You can fill your cooler on the way home.
One should savour the North Shore. Its sea, land and forest are captured in delicacies ranging from jams to drinks, and even in salt from the Saint-Laurent! Four microbreweries between Tadoussac and Natashquan; two distilleries between Baie-Comeau and Havre-Saint-Pierre; a harvester who captures summer in her little jars; another who gathers plants, spices and mushrooms in the wild; succulent honey flowing from the hives; boreal herbal teas; fruits; organic vegetables. Add a few dynamic chefs into the mix to feed both locals and visitors… Every time I visit, such discoveries enrich my memories.
I know your travels have brought you there. I bid you an abundance of encounters, tasteful delights, and immensity.
le Goût de la Côte-Nord magazine
June 2022 – Number 2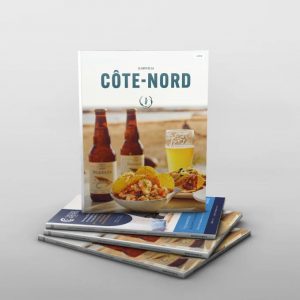 To learn more about the Côte-Nord terroir, get le Goût de la Côte-Nord magazine!